Hot Summer Days & Iced Tea Go Hand-in-Hand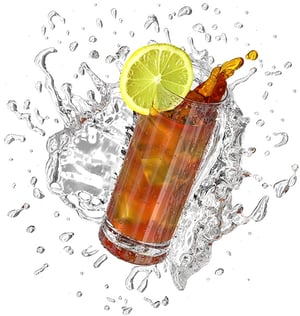 I have been a tea drinker since childhood. What I believe started my "health addiction" to tea was the hugely successful "Take the Plunge" commercial campaign for Nestea that began in the 70s. Taking the Nestea plunge was a favorite pool and lake game when I was growing up. By watching it, we learned that Nestea was SO INCREDIBLY REFRESHING on a hot day. Now as an adult, after spending hot July days outside mowing, trimming and edging the front and back yards, I still feel like I need to take The Nestea Plunge.
For many of us Americans, once we hit June, we know it's officially the start of summer. Many of us are fortunate enough to be able to play in the sunshine on a hot summer's day with a refreshing beverage. It makes sense then that June is National Iced Tea Month, rejoicing in America's love of the classic cold brewed beverage of summer. And American's are certainly passionate about their cold tea, a tradition that dates back to 1904 when providers of hot tea tried to boost popularity at the St. Louis World's Fair. When a heat wave hit St. Louis, absolutely no one was lining up to sip hot tea in the sweltering heat and the pavilion remained empty. They noticed an ice delivery truck and an idea struck them. They purchased blocks of ice, borrowed ice picks and began filling glasses, first with ice, and then with brewed tea. The tea was a hit! Crowds lined up to get a taste and cool off.
Besides tea being a wonderful thirst quencher, it contains a chock full of health goodies . . . . .
Tea acts as a part of your daily water intake and refreshes thirst without all those additives and calories of soda.

It is high in antioxidants and the mineral manganese. Tea antioxidants offers protection against fractures.
Manganese promotes healthy wound healing, helps maintain the strength of your bones and supports your metabolism.
A certain amount of antioxidants in the body will help to protect the damage of cells. These antioxidants may also protect you from several cancers, including breast, skin, prostate and lung cancer.
The antioxidants in your body maintain the well-being of the immune system. One of the famous antioxidants, flavonoids, is abundant in tea drinks. It is believed to have the ability to eliminate cancer cells and protect your normal cells.
Drinking iced tea might help prevent heart disease. Drinking black tea can help prevent hardening of the arteries, as well as lower the risk of a heart attack. These heart benefits may come from the anti-inflammatory properties of the antioxidants in tea.
Black tea can actually help its drinker's better recover from the common daily stresses of life by bringing stress hormones, like cortisol, back down.
The consumption of green tea or black tea can reduce cavities by preventing plaque build-up and inhibiting bacteria. The leaves of the Camilla sinensis plant in tea has been linked to preventing tooth decay due to its anti-cavity properties.
My bottom-line advice is that all types of tea (green, black, oolong, white) have been shown to have potential health benefits, so instead of searching for the most potent leaf, choose a tea that you enjoy drinking and rest easy. Now that summer's heating up in earnest, an icy cold glass of iced tea is sounding pretty darn good. Cheers, and enjoy taking the plunge! #NationalIcedTeaMonth
Are you a restaurant or convenience store owner or manager who serves iced tea? Then you know how difficult it is to clean those commercial grade tea urn dispensers! Learn how Saftea® Liner can save time and labor by taking the scrubbing, and cleaning chemicals out of the equation. Use Saftea® Liner inside your tea urns to provide a hygienically superior system to serving your iced teas. Consistent, fresh tasting tea will make your patrons happy and come back for more! For a limited time: get your FREE 7-day supply of Saftea® Liners and try it out!