Friday Afternoon Tea Road Trip!
Light of Day Organics - Traverse City, Michigan

We head west out of Traverse City on M-72, driving with the windows down to alleviate some of the warmth of the day. The sky is completely clear and cerulean blue. The sun is shining brightly overhead and nature has just started to awaken after a long Up North winter. As we turn left into the driveway of Light of Day Organics, the first impression is that of serenity and balance. The grass has started to green, early flowers are blooming, insects are starting to hatch and birds are flitting about in excitement over the turn of the weather.
We park the car and start to wander the grounds for a few minutes, just enjoying the sun's warmth penetrating our skin. It is one of the first hot days of the year though, so we soon enter the cooler air of the building that houses Light of Day's store. We are welcomed by friendly staff and start to look around, zeroing in on their free tea of the day, Lemony-Ginger Sunshine. Excited, as this is one of our favorite blends, we each take a cup to try. As we peruse the store and sip the fragrant drink, we start to discover so many magnificent things that would pique the interest of any lover of Camellia Sinensis.
The tea bar inside offers the opportunity to purchase a taste of any of their teas or tisanes, in single cups or in a flight of 6 (as has become popular amongst our craft beer drinkers in this region). The other option for purchase is a matcha shot, which we eagerly agree we must try. The deep green matcha powder is blended with coconut milk & pineapple juice, giving it a sweet and creamy taste. It is perfect for quenching our thirst and providing a boost of energy on an otherwise sweltering and listless day.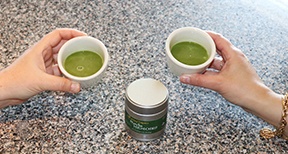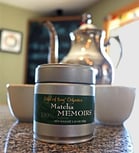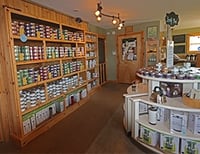 To our left is a book filled with everything a person would need to know about tea. Continuing further on is a wall of tea and tea accessories, to include a sampler package containing 5 different preselected teas. But the pièce de résistance, my personal favorite part of our visit? The Sniff Bar; displaying a multitude of teas and tisanes of every color and scent that Light of Day has brought to fruition on their farm. As you open each tin and inhale, you are struck with an immediate reaction; maybe the invocation of memories past, a din of daydreams visualizing future moments savoring the teas, or even salivation over their delectable combinations of scents. My favorite is the Humming Bird Nectar. This amazing blend of cherry, hibiscus, blueberry, grape, currant, elderberry and maple syrup bits immediately lifts my spirits.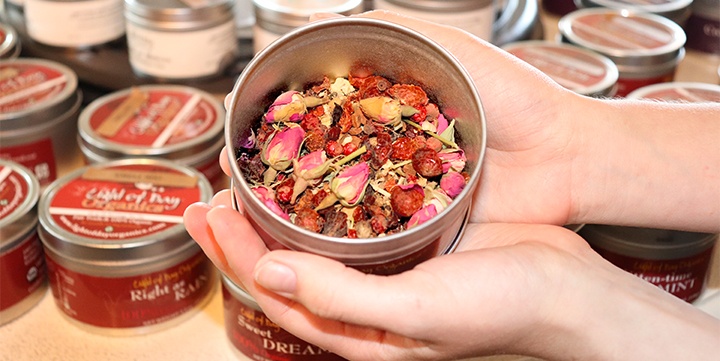 After smelling almost every tea and tisane available, and chatting up the two knowledgeable staff members further, we head back outside to explore more of the splendor that Light of Day has to offer. As we weave through the landscape, we also start to notice some of humankind's thumbprint surrounding us. The solar panels mounted into the ground and on top of an outbuilding, a yurt for holding special classes/events, an open wooden gazeebo perfect for sipping tea under and a ring of chairs around an unlit campfire. I can clearly picture a cool Northern Michigan spring evening, wrapped in a blanket, sitting around a roaring fire and sipping a warm cup of their tea. Everything though is harmonious, blending with its surrounding or there for a purpose only to promote the well-being of the farm and earth overall.
With some measure of disappointment, we finally return to our vehicle to head back into the hustle of Traverse City. We leave knowing though that we were fortunate to have experienced one of Northern Michigan's true gems, offering a small slice of nature's perfect bounty for us to take home.
---
Light of Day Organics is located at 3502 E. Traverse Hwy, Traverse City, MI 49684
Learn more about their tea shop: www.lightofdayorganics.com
---

Are you a restaurant or convenience store owner or manager who serves iced tea? Then you know how difficult it is to clean those commercial grade tea urn dispensers! Learn how Saftea® Liner can save time and labor by taking the scrubbing, and cleaning chemicals out of the equation. Use Saftea® Liner inside your tea urns to provide a hygienically superior system to serving your iced teas. Consistent, fresh tasting tea will make your patrons happy and come back for more! For a limited time: get your FREE 7-day supply of Saftea® Liners and try it out!