What Makes Saftea® Liner the Best Option?
Plascon Group has been manufacturing Saftea® Liner for a few years now and continues to gain popularity in thousands of locations across the country, including convenience stores, restaurants, offices, food trucks, country clubs and catering companies. Saftea® Liner is used in iced tea urn dispensers; and works equally well with other cold beverages such as lemonades, fruit juices, and iced coffees. If you are wondering what makes Saftea® Liner superior to alternate liners on the market, then read on! We're certain you will agree that Saftea® Liner offers the best quality available, and as testament, we offer a free 7-day trial pack for you to test it yourself!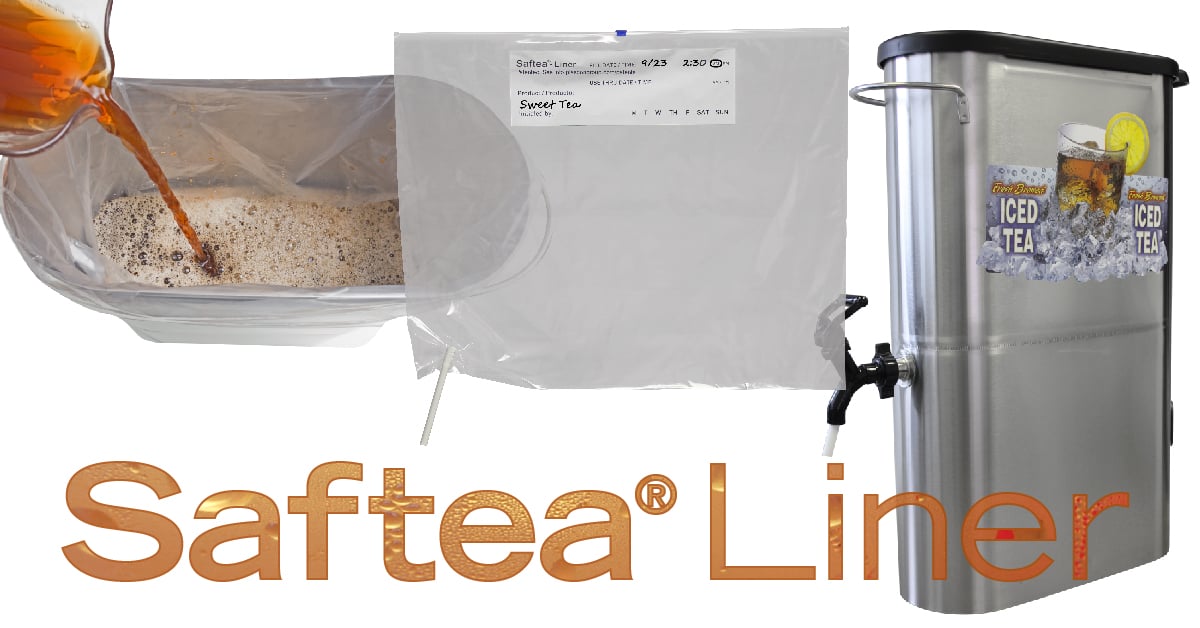 Quality, Design, & Functionality
The Zip-Top Enclosure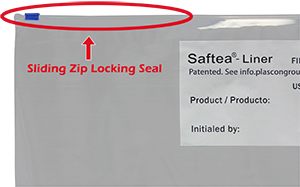 Saftea® Liner is the only liner in the market with a zippered, easy glide sliding sealer. The zippered seal not only prevents accidental foreign contaminates from entering the tea, but also eliminates spillage caused by carrying the dispenser from kitchen to serving area. Depending on where you brew your tea, you may have to lift and carry full, heavy tea urns from the back of the restaurant to the front. Carrying 35lbs of liquid often results in spills, which not only reduces the product, but also creates a mess that now needs cleaning attention. With Saftea® Liner, this problem is solved. Simply insert the liner into the urn, brew your tea directly into the lined urn, and when full, seal the liner. You now have fully protected tea that can be transported almost anywhere, without worrying about lost time and money resulting from spilled tea. Also, with Saftea® Liner the liner is always neatly tucked inside the urn, and not visible to the public.
This compares to competitor liners that either drape over the outside of the urn, creating untidy aesthetics that your patrons can see, or are sometimes tied with a twist tie which creates the risk of the twist-tie entering the inside liner. Open top style liners present safety risks of contaminates entering or being placed in the beverage. Saftea® Liner takes your beverage safety program to the next level, ensuring a tight, tamper resistant seal, all neatly stored inside the beverage urn.
Writeable Tracking Panel
Saftea® Liner is the only liner in the marketplace that has a writable panel where your employees can track dates, time of brews, cleanings, etc. This is important when it comes to food safety, as you always have an audit trail showing anyone who needs to see just how fresh your iced tea is.
Customer Service
Here at Saftea® we pride ourselves on our customer service, and when you call with questions or concerns, there are multiple people here available to help you. Need a rush order? No problem, we'll take care of that for you. Need more training on how to use the liner? No problem, everyone here is ready to help teach you and your team. We even have plenty of videos showing you how to install, uninstall, and regularly use Saftea® Liner. We can ship quantities starting at 30-day packs for smaller venues, to caseload, to pallet and truckload quantities. You want one case? You get one case. You want one spigot? You get one spigot. It's that simple.
Science
A few years ago, Eurofins independent laboratories did a test comparing Saftea® Liner to a competitor's liner, and also no liner at all. Their findings were pretty telling, and even they state that the best way to improve the life and quality of your iced tea is with the use of the Saftea® Liner. An excerpt from the Eurofins report states, "The effect against fungal organisms (yeasts and molds) was most significant, with levels of these organisms recovered at 10-100 times less over the course of the study in Saftea® Zip Top-lined urn than the competitor-lined urn or the urn with no liner." This means that the use of a Plascon Saftea® Zip Top Liner, as opposed to either the lack of a liner or the use of a competitor liner, may increase both the shelf life and the overall safety of brewed tea held in these urns over extended storage times.
We know that when it comes to improving your iced tea and protecting that tea, you have choices out there. We also know that based on previous studies by independent laboratories, Saftea® Liner is the best option available today. Request your FREE 7-DAY sample kit today, and see the many ways Saftea® Liner can improve your food service operations.