Consistently Reinforced Procedures Keep Your Restaurant Food Safety Program on Track
Steps to keep
Foodborne Illnesses out of Your Restaurant

According to the Center for Disease Control, 48 million Americans become sick from a foodborne illness each year. 128,000 are hospitalized and 3,000 die each year due to a food-related illness, often referred to as food poisoning. Add to this, the estimated cost of a single food-borne illness outbreak for a restaurant can range between $4,000 to $1.9 million depending on the type of establishment, number of people impacted, legal fees, or fines and lost revenue. (Read the full report on these numbers here.) The consequences of a single incident on the reputation of your establishment could be immeasurable and even result in total loss.

According to the National Restaurant Association, Americans eat out approximately five times per week. Reducing food safety risks and their associated costs are good for your bottom line and critical to the success of your business. Here are a few strategies to consider:
Create the Culture:
Owners, managers and leaders all must demonstrate a strong commitment to food safety. Provide ongoing training, stay current with news stories and industry trends. Explain why specific safety protocols are in place and the reason behind the rules. When staff takes ownership of food safety, everyone wins.
Reduce the Potential:
The most basic step in reducing a food safety outbreak is teaching the importance of personal hygiene. The FDA recommends that restaurant food handlers wash their hands and the exposed portions of their arms, for at least 20 seconds using a cleaning compound in a designated hand washing sink. Most States require that ready-to-eat food be prepared and served using gloves. Washing hands before and after wearing gloves further helps to prevent contamination.
Improve the Operation:
Simplify safety practices and procedures in every area of your operation. If safety procedures are kept simple, staff will more likely perform all safety procedures, even when hurried. Use less harmful cleaning chemicals. Many disinfectant products contain toxins and can be dangerous if used incorrectly or not properly rinsed from a food contact surface.
The potential loss due to just one food safety incident makes any measure to improve your operation worth strong consideration. Careful attention to food safety and proper sanitation are the key components in keeping your staff and customers safe. Investing is Food Safety is the best way to avoid a food safety risk and money well spent.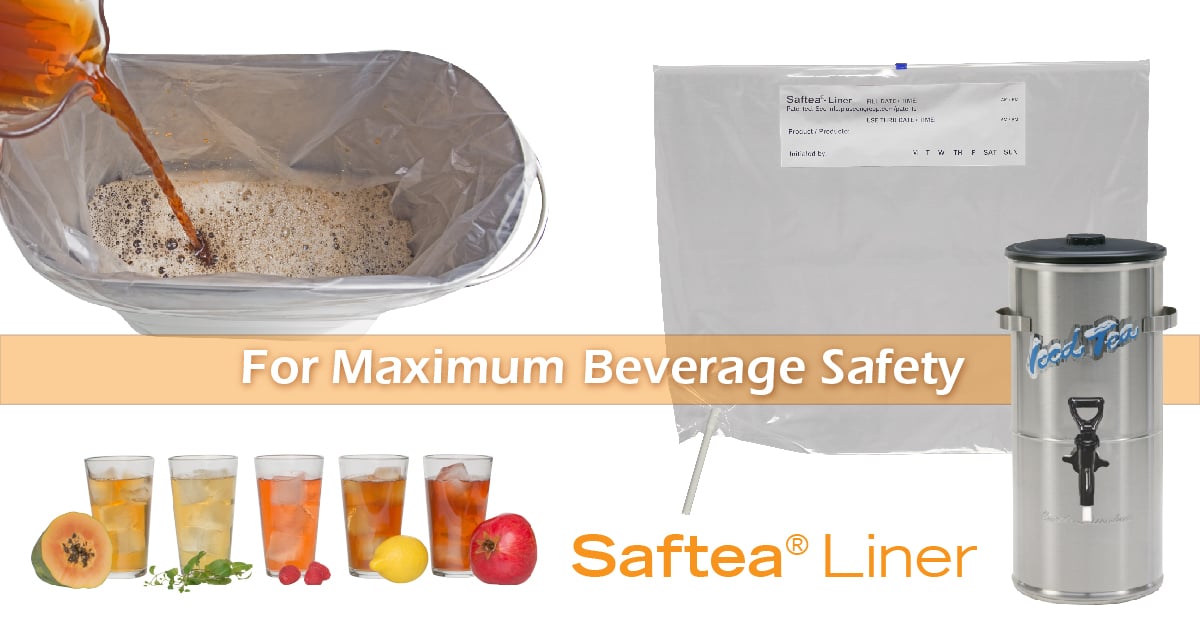 If your restaurant currently serves and dispenses iced tea using restaurant grade stainless steel urns, using Saftea® Liners both eliminate the need for cleaning chemicals and the potential residual toxins that can be left behind when not properly rinsed. Because the tea never comes in direct contact with the urn or the faucet and spigot, the need to disassemble, scrub, and reassemble is replaced with the use of a liner. Other benefits include:
Virtually No Downtime

Eliminates Harmful Molds & Bacteria's

Better Tasting Product

Happy Return Customers

Increased Sales
Not to mention happy employees who no longer have the tedious task of scrubbing the urn(s) out on a daily basis!
What are your tips for a superior food safety program? Add your thoughts in the comment section below.
For more information on Saftea® Liner, and to request your FREE 7-Day Trial of the liners, click the button below: