Whether you are packaging food grade, floral, or industrial products, chances are you use a box liner to protect contents when shipping. Choosing the right size and strength film for your needs is critical to prevent product spillage, or to protect products from air and moisture. Plascon offers complete box lining solutions that are BRC, AIB, FDA, and USDA Certified.
Our films are commonly used to package: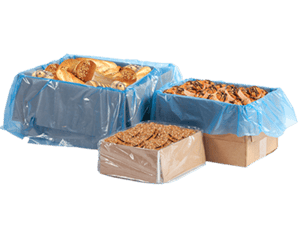 Fresh & Frozen Meats

Breads

Fruits & Vegetables

Sugar & Spices

Fresh Cut Floral

Resins

Nails & Screws

Fasteners
Plascon films and polyliners are manufactured in our Traverse City, Michigan blown films plant. As manufacturer, we control the process and flexibility to produce the most cost effective liner for your application requirements by offering LLDPE, HDPE, Blended LLDPE/ HDPE, and Biodegradable bags and liners. Liners can be made in clear plastic, or any color, and one-color printing is also available.
Plascon box liners are compatible with all automated box lining systems including Niverplast, K&R Equipment, Pattyn Packaging, OK International Group, Pearson, and Thiele Technologies. For smaller footprints, we also have our EasyLineTM Manual Bag Placement System, which can increase production rates by up to 50%.
---
Join us April 29-30 in Toronto Canada for the 2018 Bakery Showcase Trade Show & Conference.
Hope to see you there!
---
Learn more about our liners and capabilities: