Don't Let this month end without trying one of these cool new Iced Tea Trends!
Happy National Iced Tea Month! In keeping with our theme, here are the 2019 top five interesting iced tea trends to try!


Bold Colors
Bold colors are prevalent this in beverages this year, and this blue-hued iced tea certainly makes a statement. Made from the flowers of the Butterfly pea flower plant, this vibrant herbal tea has a secret – it changes from blue to purple when an acid like lemon or lime is added!

Textures
Boba Tea, also known as Bubble Tea or Pearl Milk Tea is a trend that has made its way from Taiwan to the U.S. The most common version of Boba tea consists of black tea, milk, ice, and chewy tapioca pearls, all shaken together like a martini and served with a fat straw to accommodate the marbles of tapioca that cluster at the bottom of the cup. However, versions made with brown sugar, different kinds of fruit like mango, lemon and watermelon, hibiscus and matcha teas are also popular.


Globally inspired flavors
The demand for unique and spicy flavors is a trend that will continue in 2019. With the increasing fascination with international cuisines, American palates are increasingly eager to experience bolder, spicier flavors, like cardamom, ginger, Chinese Five Spice, turmeric, cayenne, jalapeño, chili and habanero.

Cold Brew
In the American ready-to-drink market, cold brewed, bottled teas are trending. Tea steeped in cold or room temperature water for an extended period is known as cold brew tea. This method of brewing gently extracts the flavor from tea leaves, not allowing the tea to turn bitter. The brew achieved from this method is high in quality. Primarily, this tea is brewed for about 16- 24 hours. It has higher amounts of antioxidants, with a sweet, sugar-free flavor. One of the best things about this tea is very hydrating.
Dessert Teas
One of the most prominent tea trends to hit the market are the emergence of dessert teas. These are naturally sweet teas, served hot or iced. While some are teas with added fruits and flowers for flavor, some are tisanes which have no tea leaves but are made with flowers, fruits and herbs. Dessert teas are an excellent after-dinner hot drink option that is both decadent and low-calorie. Naturally sweet teas are incredibly beneficial for people with high blood sugar, diabetes, and acne. They are helpful in decreasing the risk of heart diseases and early aging. A few of the favorite flavors in dessert teas include- strawberry, chocolate, apple cinnamon, cranberry apple, pineapple ginger, pomegranate, vanilla and orange zest.
From a morning pick-me-up to midday treat, pre-workout fuel to after-work happy hour, iced tea is steeping into all corners of our lives, with new flavors, preparations, and varieties both made to order and ready to drink.
---
Saftea® Liner - Restaurant Grade Tea Urn Liners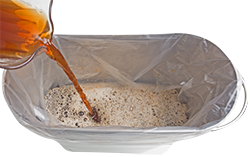 Learn how using Saftea® Liner in restaurant grade tea urn dispensers can help businesses serve the freshest, safest, and best tasting iced tea every time. Visit our web store to purchase your first set of liners!