Stack / Nest Crates: A Valuable Accessory for your Cook Chill Operation
How do you store your Cook Chill Bags? Depending on your operation, Stack/Nest Crates from Plascon may be just the product to enhance your Cook Chill process. These durable crates are designed to hold multiple bags throughout the Cook Chill process, from chilling & storage to transport & delivery of the product.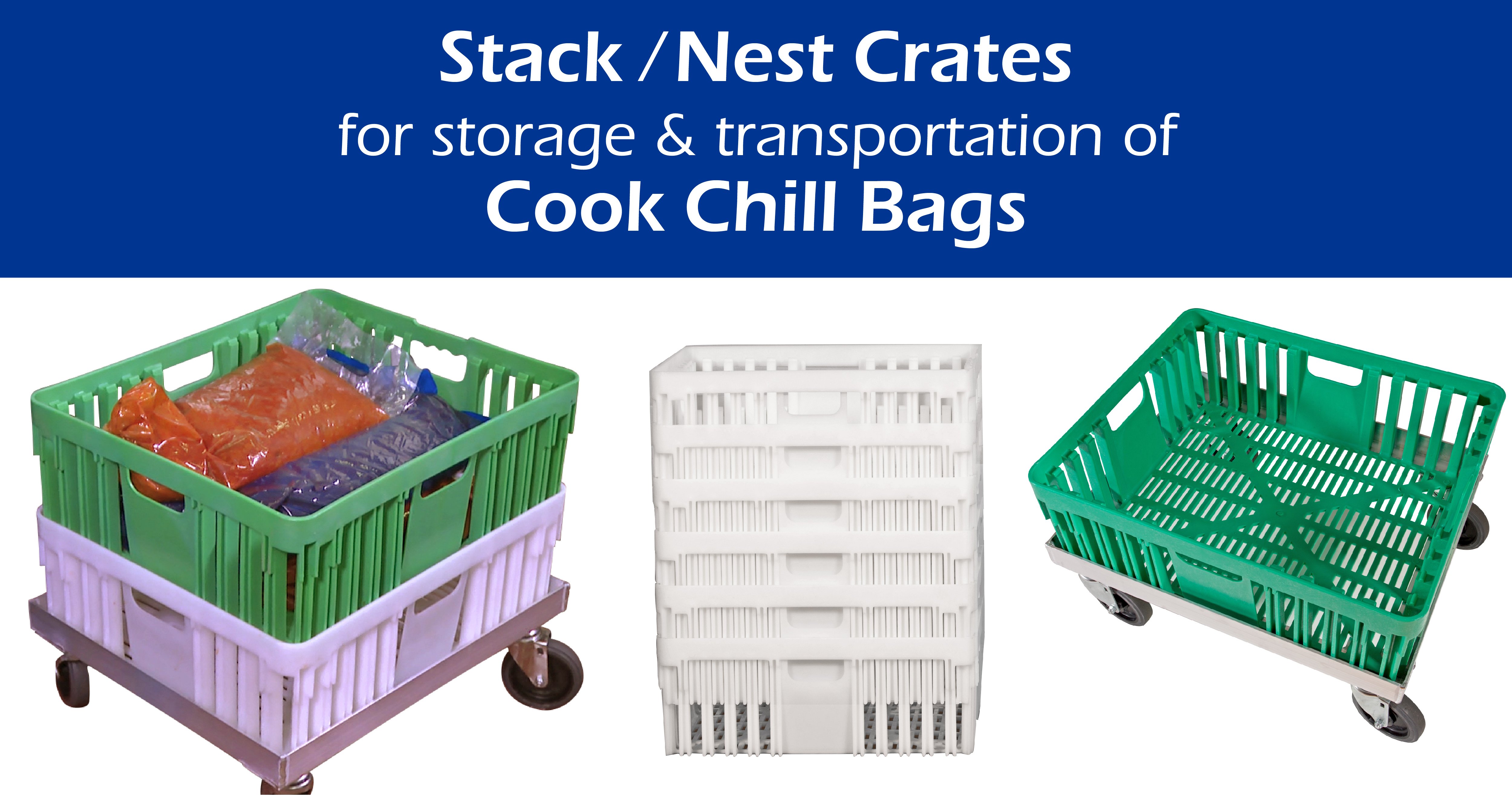 Available dollies with casters, allow for several crates to be stacked on top of each other and easily moved around. The crates have a "Nest" feature that maximizes storage space when the crates are not in use.
Features:
Proprietary High impact Polypropylene/Teflon formulation insure a long life

Container meets all requirements of FDA, USDA and NSF with respect to direct food contact

Broad temperature tolerance from blast freezing to seam/autoclave cleaning

1" stack interlock prevents crates from separating during transportation

Teflon release properties create an easy to clean, non-stick surface

Crates have hand-grip openings on two short sides and alternately on four sides, grip areas differ in feel on opposing sides to help locate in stack mode

Container meets correctional institution standards and contains no metal or design geometry that might easily be used as a weapon

Container color options are warm white or green
If your operation is a single location restaurant, commissary, food processing facility, correctional institution, school, college/university or hospital, Stack / Nest Crates from Plascon may be an ideal solution to your Cook Chill storage & transportation needs.
Plascon is your source for all things Cook Chill related. We manufacture our 7-layer co-extruded cook chill film and convert to finished cook chill bags in both clear and colored film. Our films are made with oxygen and moisture barriers to provide better flavor protection. We keep several common sizes in stock and ready to ship, and also offer multiple alternate sizes, including special orders. Our cook chill bags are available as Heat Seal, Angle Heat Seal, Handle Bags, and Clipped Bags.
We also offer a full line of Cook Chill Accessories, including:
Stack / Nest Crates w/ optional dolly on caster wheels

Fixed and Adjustable Ring Stands

Hand and Foot Impulse Sealers

Aluminum Clips to seal bags
Looking for cooking kettles, tumble chillers, and other industrial cooking system equipment? Together with our partner DC Norris North America, a leader in industrial cooking systems, we can build the perfect cook chill setup for both small and large kitchen operations.
Contact us to discuss your cook chill needs and applications. Our experience team is here to guide you through the process and help determine what will best suit your needs.