Learn to recognize and manage the signs of stress
Stress is the body's response to a demand or threat, real or perceived. It's the automatic physical response often called fight or flight. The body releases a surge of adrenaline and cortisol and there goes your laid back, relaxed self. You know the feeling. Your heart beats faster, your breaths become shallow, your vision narrows. Personally, I have a difficult time returning to a state of normal once the cortisol engine starts up. One stressful moment can lead to hours recovering from the physical affects. My body feels like it's buzzing with energy, and I can't focus on the task at hand.
Stress is not necessarily a bad thing. Stress can give us the momentum needed to complete a project, or to tackle the toughest things on our to-do list. But, being overwhelmed by daily demands or a negative environment can take its toll on both physical and mental health. Eventually workplace productivity will suffer.
Many employees identify the main cause of their workplace stress as tense relationships they have with coworkers or bosses. It's the daily human interactions with one another that can rub us the wrong way and cause conflict. It could be the overall culture of a company, whether the environment is too strict with an "all business all the time" attitude, or perhaps the culture is too relaxed, which can lead to inefficiencies and dissatisfaction with job performance. Have you ever had a long term employee walk off the job? I bet there's a workplace relationship at the root. We humans can only put up with so much before something gives way. Either we choose to remain stressed out, or we change the situation.
If the true cause of your stress is a workplace relationship, there must be a conversation with leadership to resolve personal disagreements. A good leader will have already sensed something is off between staff members and may be the one to call a meeting.
Management has the added difficulty of balancing appropriate levels of friendship while maintaining authority. Staff needs to feel appreciated and that their work matters to the overall success of a business, however, corrective actions must sometimes be given.
We've all learned healthy ways to manage stress such as exercise, deep breathing, and using vacation days to get away from the daily grind. However, if the interpersonal relationships between staff members aren't mostly positive, none of these techniques will eliminate tension. A company must create a positive work culture that promotes well-being and connections between coworkers.
Have a little fun!
Plan a themed luncheon and watch how your coworkers get creative. Last year on May 4th, Plascon's office staff participated in a "May the 4th Be With You," Star Wars themed pot luck. We had a bit of Star Wars décor and a variety of foods each given names like Yoda Soda, Wookie Cookies, and Dark Side Chips and Dip. You can find more Star Wars themed food ideas on Pinterest.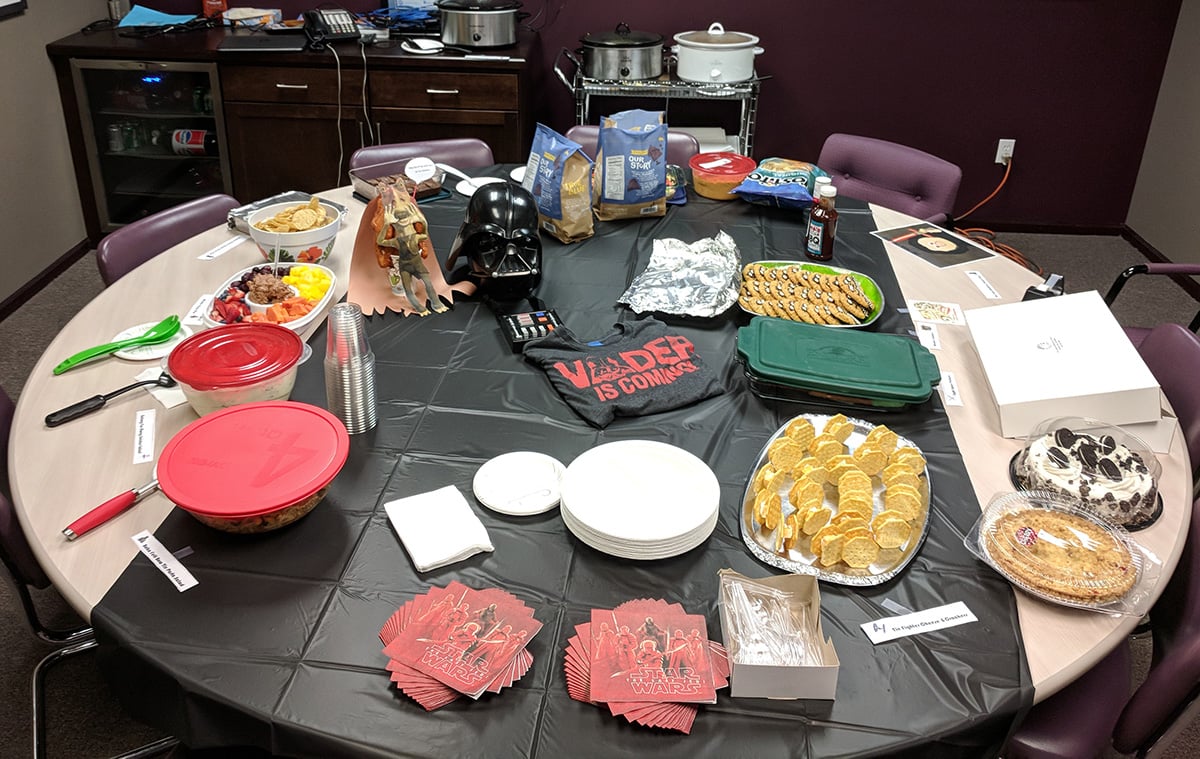 Challenge your coworkers to a light competition. Currently our staff is placing their guess as to when the Mt Everest pile of snow in front of our building will finally melt off. Here in Northern Michigan, we're still staring at a snow pile long into April, and possibly May! Whoever picks the closest date of melt off will receive a token award and bragging rights to having won the challenge.
How about showing your appreciation with an Easter basket filled with chocolates and jelly beans for staff to snack on during break times? Or, plan a breakfast gathering with waffles, syrup, bagels and cream cheese. People always love pizza! Surprise lunches please the masses every time.
It really doesn't matter how you make connections with one another, as long as there's time to get together, build friendships, and reduce stress. A little fun goes a long way toward promoting a happy, healthy work environment for all.
---
Plascon is a leader in flexible packaging solutions, specializing in food grade bags and liners. Visit our website or contact us today to discuss your packaging needs.