"Great things in business are never done alone; they're done by a team."
– Steve Jobs
Here at Plascon, we believe we are stronger when we work together. This is true not only in our daily work practices and activities, but also by forming strategic alliances with other organizations who share the same vision and goals for success. As a manufacturer of flexible packaging products, we also offer biodegradable options, and seek opportunities to place these eco-friendly liners in our community, and across the globe as the demand for biodegradable packaging continues to rise. This innovative and environmentally-safe material has no toxic by-products and has been tested to successfully biodegrade under most environmental conditions.
Joining forces with Grand Traverse Industries (GTI), a local Community Rehabilitation Organization right here in our hometown of Traverse City, Michigan not only provides employment, training, and support to people with disabilities and other barriers to employment, it also allows us to increase the production of biodegradable bags and liners. In this partnership with GTI, Plascon provides the machinery and films to convert into finished liners which can then be sold to other organizations, all while creating jobs in our community.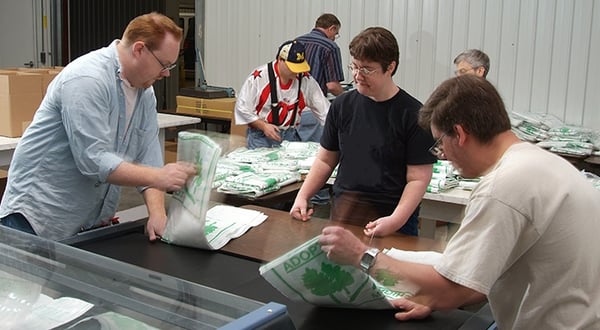 Pictured: GTI workers converting film to finished bags.
GTI in turn supplies another local Traverse City company, Bay Area Recycling for Charities (BARC) with our biodegradable trash liners. BARC, a recycling company that partners with local non-profits to inspire recycling and provide fund-raising opportunities, offers the biodegradable bags to consumers and businesses. The biodegradable liners are available in any color or thickness, and your company logo can be printed on the liners with minimum order requirements.
In this example, all three companies have come together in business while helping the environment and creating jobs. Local communities helping each other, and reaching out to other communities and ultimately connecting on a global scale. Working together, anything is possible!

Join us in spreading the word of biodegradable bags and liners, and learn how we can help your business make the move towards more environmentally friendly packaging options.