Quality Products Require Quality Service
When you buy something from a company, what are your expectations when you need help or information on a purchased product or service? Did your product arrive damaged, or is it not operating as you had expected? Maybe you just need guidance on how to properly operate a product? Whatever the issue, generally the first thing you will do as a consumer is to reach out to customer service for assistance. Customer Service Representatives (CSR's) are the heartbeat of any company, as they are the ones answering the calls each day, assisting with orders, as well as helping to troubleshoot problems. In the end, the success of a company is dependent on a positive customer service experience for you, our customer.
The Service before & after the Sale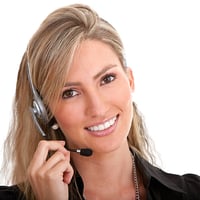 CSR's are the heartbeat of a company, as they are on the front line to speak with you, our valued customer. A good CSR listens to their customer to provide the best service, solution, and follow up care for any situation. Most of us dread the thought of having to call a customer service line, only to be placed on hold, or bounced from department to department without resolution. When you finally reach a live person, as a customer you are hoping for a helpful and pleasant interaction with the person on the other end of the line. At Plascon, our team is here to assist our customers, and may even know of few of you by name! They are the ones who answer customer questions on a daily basis, and it is their tact and ability to work through those questions, all while making sure the customer is happy with the results of their inquiry, that are essential to any business hoping to grow their market share. Without those wonderful people taking those calls and emails, the rest of the company cannot do their job. Our customer service team strives to provide only the best support each time they are in contact with our customers. Customer service extends to everyone from sales, management, and after service care, and each point of contact along the way are dedicated to providing the best service to our customers by listening to your questions and needs, and offering information and suggestions on products and services to better your customer experience.
It's how you handle situations that separates you from your competition, and here at Plascon, we feel our customer service is second to none! Our goal is to do our best to make sure every customer is happy not just with their purchase, but with the company as a whole. It could be something as simple as a returned email in a timely manner giving the customer their tracking information for their order. Or it could be something more detail oriented such as researching the correct information to assist and guide our valued customers to the best solution for their needs. Whatever your needs, know that our team is here and ready to take your calls and emails, so that you can get back to your busy day knowing we've got it under control!
So this June, as we celebrate National Iced Tea Month, remember it's all about the customer experience. We are dedicated to providing Saftea® Liner to our iced tea restaurant, café, and convenience store partners, so that you can provide only the freshest, and safest iced tea for your own valued customers. With Saftea® Liner, you will improve the taste and flavor of your iced teas all while protecting your customers from foreign contaminants, and even save your restaurant money on labor and cleaning chemicals. Your customers benefit by receiving the freshest and best tasting iced tea when dispensed from urns lined with Saftea® Liner, and as a restaurant owner, you can rest easy knowing that we have your back. If there is ever anything that you need help with, we are all here to make sure you get the help that you need.
---
In honor of National Iced Tea Month this June, we are offering discounts on Saftea® Liner exclusively on our webstore! Now available in handy 30-pack and 150-pack cases, place your order 24 hours a day, when it best fits your schedule! Need additional spigots? We've got those too! Current promo offers:
Enter "SAFTEASALE" at checkout to receive $10 off your $50 or more purchase. This offer is valid through June 30th, 2019.
Enter "FREESPIGOT" to receive one free spigot with any purchase! This limited offer is valid through June 15th, 2019!
One promo code per order, per customer. So shop now while the deals are here!