Farm to table: supporting your local farmers
Vigilant food safety guidelines to follow
Farmers markets are very popular across America. While local supermarkets and shopping centers offer a wide variety of fruits and vegetables, in the summer, many folks like to visit a neighborhood farmers market to support local farmers.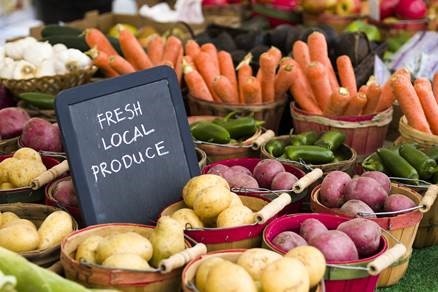 The same precautions should be taken when buying produce from a farmers market as when you make similar purchases at the supermarket. Whether a farmers bounty is sold at the grocery store or the supermarket, farmers must follow United States Department of Agriculture (USDA), Food and Drug Administration (FDA) and the United States Environmental Protection Agency (EPA) safety regulations to grow and harvest crops.
Farmers markets and supermarkets offer an assortment of conventionally and organically grown produce. Both organic and conventionally grown produce are safe and are nutritionally equivalent and both use pesticides for pest management. Additionally, there is also no safety or nutritional advantage in buying produce from the farmers market versus the supermarket.
Many farmers who sell at farmers markets say they use organic methods. Some farmers who sell at farmers markets say they use conventional methods. You can find foods in the supermarkets grown by both methods as well. It is important for consumers to remember that just because produce is organic, that does not mean that no chemicals have been used in production. Buying organic is an option and a personal decision.
Be vigilant in your food safety practices no matter where they are purchasing food. Always practice washing the produce, washing your hands, and always clean your utensils after preparing your produce. Then enjoy all of the great fresh fruits and vegetables while they last this season.
Plascon provides a variety of food grade flexible packaging that is both FDA and USDA approved. From box liners to cook chill and sous vide packaging, to iced tea urn liners, we offer flexible food solutions answers to many packaging situations. Learn more about our flexible packaging products: