Move over iced tea, here comes iced coffee!
It's summertime, and it's hot outside! If you are looking for a new flavor to quench your thirst, why not try iced coffees? There are many options to choose from, but to get you started, we thought we would share this recipe we found on damndelicious.net.
Iced Coffee Recipe
Try this delicious and refreshing iced coffee recipe to quench your thirst on hot summer days!
I N G R E D I E N T S:
1/2 cup sugar
1/2 teaspoon vanilla extract

1 cup coffee, at room temperature

2 tablespoons, or more, to taste of half and half, milk, cream or non-dairy option like almond milk
D I R E C T I O N S:
To make the simple syrup, combine sugar and 1 cup water in a medium saucepan over medium heat, stirring until the sugar has dissolved. Let cool completely and stir in vanilla extract; set aside.
Serve coffee over ice with half and half and simple syrup, to taste.
---
Did you know you can use Saftea® Liners for other beverages besides iced tea? Saftea® Liners are also great for serving iced coffee, lemonades and fruit drinks!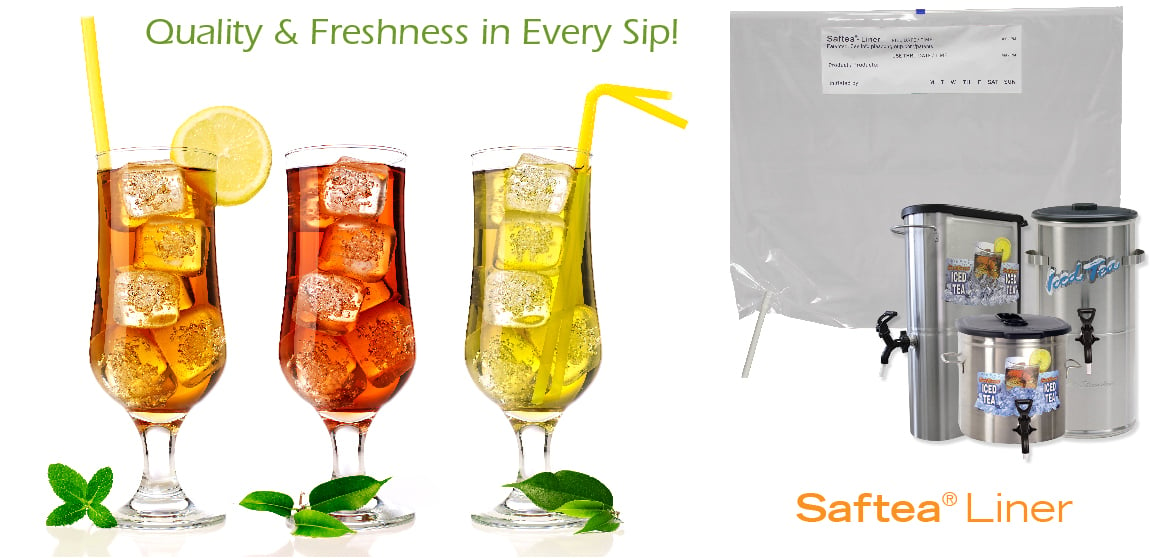 It's no secret that around here, we love iced tea, but today we want to share the love for iced coffee! It's true that Saftea® Liner has become commonly known for use with iced tea, but in fact this liner is very practical for any iced beverages including iced coffees, lemonades, and fruit drinks. Saftea® Liners are disposable liners used to line stainless steel beverage urns. If your restaurant currently serves and dispenses iced tea or other iced beverages using restaurant grade stainless steel urns, using Saftea® Liners both eliminate the need for cleaning chemicals and the potential residual toxins that can be left behind when not properly rinsed. Because the tea or beverage never comes in direct contact with the urn or the faucet and spigot, the need to disassemble, scrub, and reassemble is replaced with the use of a liner. It's truly a game-changer for your restaurant beverage program!
We've made it easy to purchase as well with our webstore offering both 30-pack and 150-pack supplies. Now you can shop when it is most convenient for you, and our team will follow up with your tracking number and get your shipment on it's way to you! Whether you run a restaurant, convenience store, catering company, cafeteria, or country club, Saftea® Liner can improve the quality and flavor of the iced beverages you serve, and your employees will love the quick and simple process of maintenance without the tedious task of scrubbing the urns daily. Your customers will benefit with a safer, more hygienic, and fresher tasting product that will keep them coming back for more!
Follow our blog and be the first to know about special offers and discounts on Saftea® Liner! Summer is not over yet, and special incentives may be right around the corner!