How fresh is the brewed Iced Tea you serve?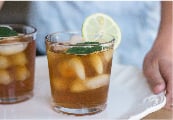 When evaluating a new product for your business, there are dozens of factors a buyer must take into consideration. When it comes to fresh brewed iced tea, quality and freshness are paramount to establishing and retaining customer loyalty. Fact: tea is prone to mold when left to sit for too long. It's an ugly truth that we do not want to talk about, and yet, if left unaddressed, can result in losing customers, and even potentially putting your customers at risk of ingesting harmful bacteria. So what is the best way to ensure safe and hygienically clean iced tea in every cup served?
Introducing Saftea® Liner
Saftea® Liners are designed specifically for stainless steel commercial tea urns, commonly found in restaurants, cafeterias, and convenience stores. With Saftea® Liner, your iced tea never comes into direct contact with the urn, thereby preventing any unwanted bacteria from forming, and building over time. Simply change your recyclable liner once a day, and you not only eliminate the mold risk, but you save time normally spent by an employee dismantling, scrubbing, and reassembling the tea urn, as well as cost savings by not using harsh cleaning chemicals. Here are a few key highlights to consider when measuring the impact of implementing Saftea® Liners within your operation:
Q: What is the benefit to the user?


A: Better Tasting Tea= Higher Sales



Saftea® Liner ensures a consistently fresh taste, without the unwanted aftertaste.
If your operation serves fresh brewed Iced tea, then you already know brewed teas develop mold and bacteria within a short time after brewing. Improperly cleaned urns and spigots produce sour, off-tasting tea that could be unsafe and will significantly reduce sales.
---
Q: What is the value to the business?
A: Eliminate a Food Safety Concern!
Commercial Tea urn manufactures require tea urns and spigots to be fully disassembled, thoroughly cleaned and properly sanitized, allowing parts to soak in sanitizing solution for a minimum of ten minutes. Parts should then be allowed to air dry overnight before they are reassembled in the morning. Implementing Saftea® Liners in your operation will eliminate any concerns that this cleaning procedure was followed by each staff member every day. Simply replace the Saftea® liner for a perfectly hygienic urn every time.
(Manufacturer recommended cleaning procedure shown below.)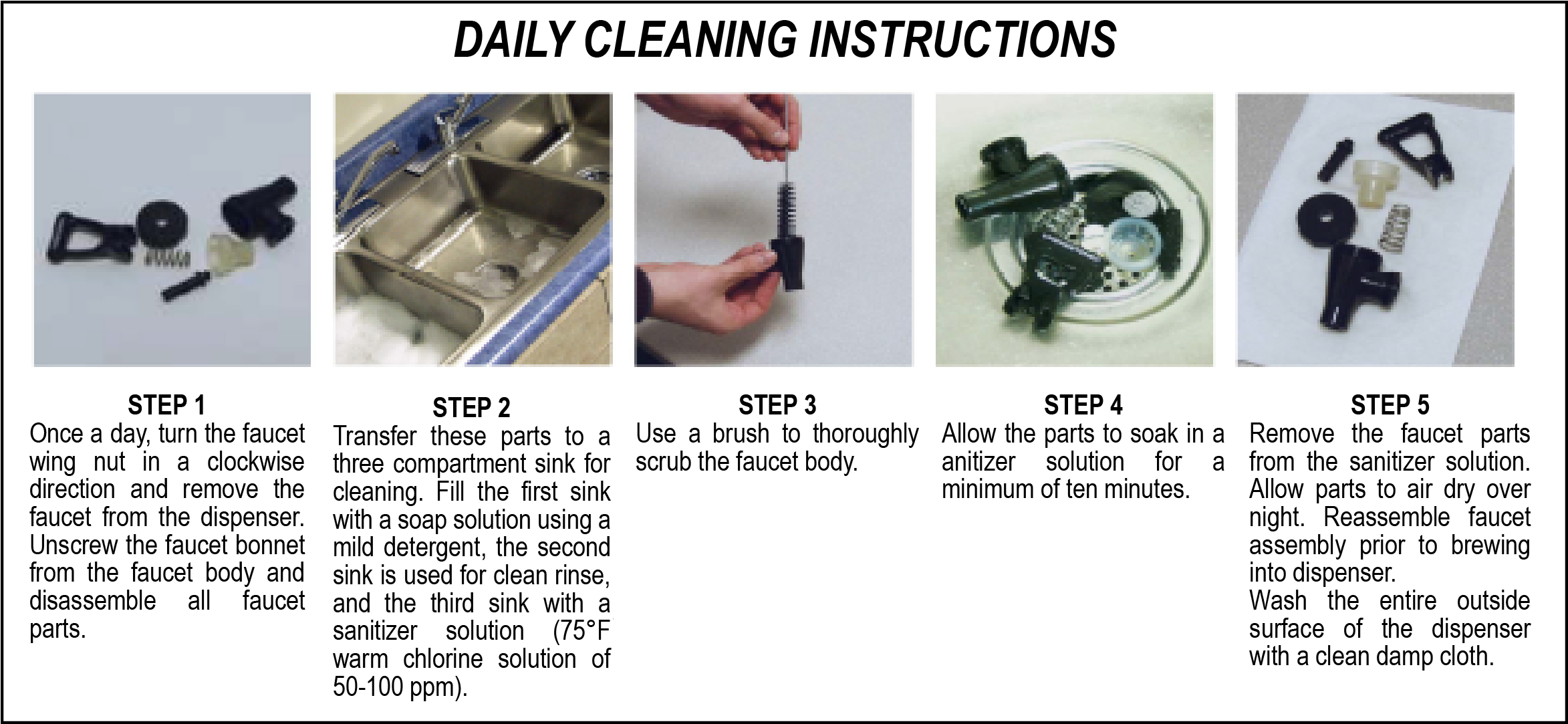 ---
Q: What is the return on investment?
A: How does 49% sound?
The following calculator compares the cost of Labor required to properly clean iced tea urns versus investing in Saftea® Urn Liners. This calculation represents a typical scenario and may vary by location. Here are the assumptions;
Hourly wage: $10 per hour
Average Saftea® Liner cost: .85¢
Number of Tea Urns: 2
Time to needed to properly clean each urn based on manufactures instructions: 10 minutes
Number of locations: 1
Days in a year: 365
Labor vs. Liner Calculator
Labor

Hourly wage: $10.00

Number of Urns: 2

Time Cleaning each Urn: 10 mins.*

Number of locations: 1

Days in a year: 365


Labor Total: $1,216.67

* Per Mfr. Daily Cleaning Instructions

Liner

Hourly wage: $10.00

Number of Urns: 2

Time Cleaning each Urn: 0 mins.

Number of locations: 1

Cost of Saftea Liner: .85¢ / per liner

Days in a year: 365


Liner Total: $620.50

Annual Labor Cost: $1,217
Annual Liner Cost: -$621
Annual Savings: $596
49% Return On Investment (ROI) !
In this scenario, the cost of labor is almost twice the cost of Saftea® Liners and the ROI on Saftea® liners is 49%. And that's not even calculating the elimination of cleaning chemicals, and water usage. To summarize, disposable (and recyclable!) urn liners cost less than the expense of traditional cleaning of urns and spigots, while improving the quality and flavor of your Iced Tea.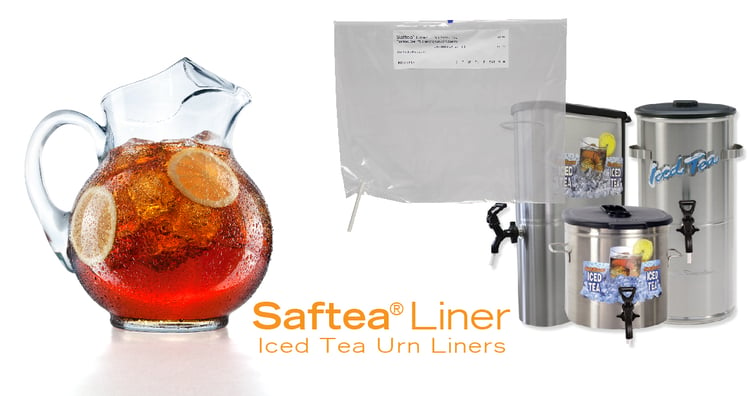 Available in 30-pack and 150-pack cases, Saftea® Liner is available for purchase at our online web store! Now, ordering is simplified, and you can place your order when it is most convenient for you, 24/7. Need a bulk supply? No problem, just contact us direct!
Not convinced yet? Request our 7-day free trial supply and see for yourself!