Plascon Celebrates Platinum Anniversary in 2020!
With the close of 2019 fast approaching and a 20-year anniversary just around the corner, I thought we should reflect on our first 20 years with a timeline and a quick look at few of our milestones!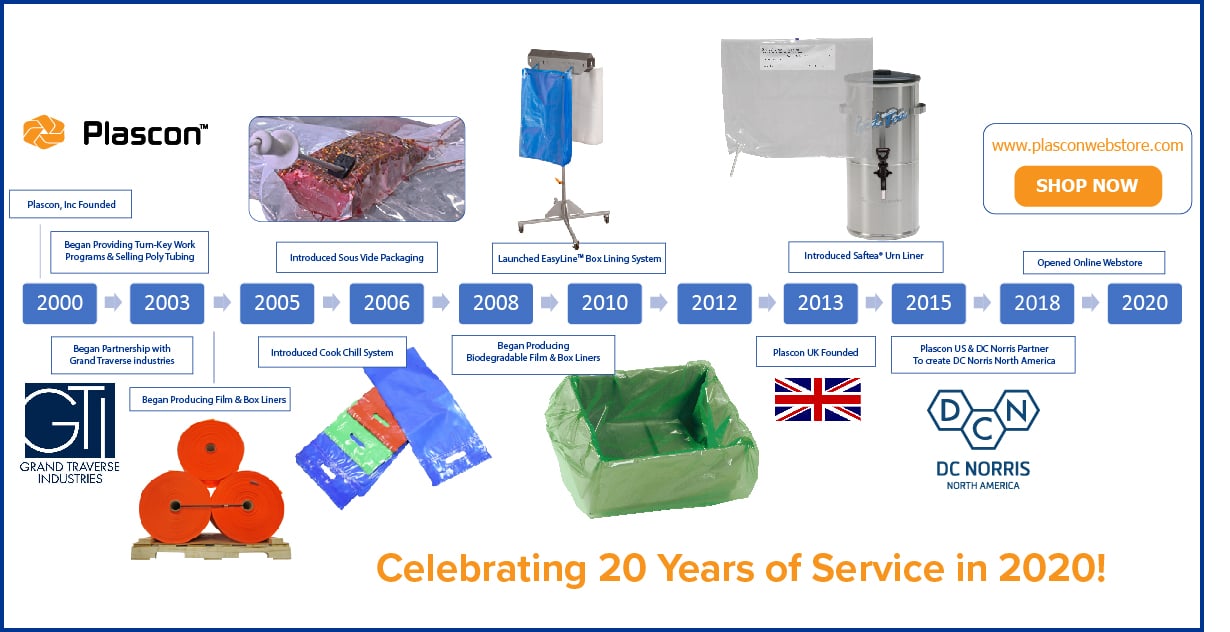 2000: Plascon, Inc was founded as a provider of Turn-Key Work Programs
Began supplying equipment, raw materials and support for Correctional Institutions and Community Rehabilitation Programs
2003: Partnership with Grand Traverse industries
Began providing training, employment and support services to persons with disabilities so they may achieve their highest level of independence.
2005: Plascon Films & Packaging Established
Began offering an extensive line of BRC Certified flexible films and packaging with the highest level of quality, service and cost effectiveness.
2006: Introduced Cook Chill System
The Cook Chill method gives food products an extended shelf life while achieving a reduction in food and labor costs and increases food safety.
2006: Introduced Sous Vide Packaging
Sous Vide foods are vacuum sealed in plastic pouches, then cooked using precisely controlled heating. We offer a full line of Sous Vide pouches that are ideal for this application.
2008: Began Producing Biodegradable Film & Box Liners
Plascon is proud to offer biodegradable plastic bags and film that provides the same strength as traditional bags contains no toxic by-products, and does not require special handling.
2010: Launched EasyLine® Line Box Liner System
Our EasyLine™ Manual Bag Insertion system can increase the rate of bag insertion by up to 50%, lowering labor costs while greatly improving bag sanitation and workplace ergonomics.
2013: Plascon UK Founded
Formed Plascon UK in Bedfordshire, England to better serve our international clients. Now branded as Plascon Packaging Solutions Ltd (PPSL), our UK office has grown incrementally since its inception.
2015: Introduced Saftea® Urn Liner
Saftea® Liner ensures a consistent and higher quality taste because the beverages they hold are free of cross-contamination, and flavors from cleaning chemicals.
2015: Plascon US and DC Norris & Company, Ltd. (UK) Partner To create DC Norris North America
World wide leaders of Industrial Food Processing Equipment, UK based DC Norris & Company partners with Plascon to form DC Norris North America, to better service and grow their business in the United States and Canada. Together with DC Norris NA, we are able to service customers with the most innovative food processing equipment, and provide our durable 7-layer cook chill bags to complete the cook chill system needs for operation.
2018: Plascon Group Launches Online Web Store
Offering a convenience way to shop for popular Plascon products, any time of the day or night.
For the past 20 years Plascon, Inc has taken great pride in producing custom, innovative solutions that are designed to meet the needs of our clients while providing world class customer service.
We look forward to serving your flexible packaging need for many years to come!