The Value of Time
If you're a busy restaurant owner or operator, then you already know the value of time.
The demands on a busy day in the service industry can be challenging for even the most organized, productive and effective operators. Wearing multiple hats throughout the day comes naturally, as you bounce from responsibilities in Accounting to Human Resources to Social Media Marketing and on to Production, all before noon! Regardless of your skill and operational acumen, time is the one factor that everyone must contend with equally.
There are only 24 hours in each day and a typical day in the life of a restaurant operator might look like this…
8:00 am - Inventory Management:
Do we have enough supplies on hand to meet demand?
Checking inventory against reality and addressing any short falls.
9:00 am -

Staffing/HR:
Are we fully staffed?
Motivate and inform all hands before start of service.
Discuss specials and or new menu items.
Print menus.
10:00 am - Open for Business:
House lights and music on.
Change in the till.
Open the doors to the public.
11:00 am - Start of service:
Manage any immediate issues and rally the staff for success.
1:00 pm - Oversee production:
Food delivered hot, drinks delivered cold?
3:00 pm - Social Media Marketing:
Create marketing plans and promotions.
Post Instagram worthy images.
Read and respond to comments.
4:00 pm - Make the calls:
Contact vendors, suppliers and partners.
Make scheduling calls.
6:00 pm - Customer service:
Make customers happy.
Ensure all guest will share their great experience and return with friends.
10:00 pm - End of service:
Thank your guests.
Thank your staff.
Cash out - Tip out.
11:00 pm - Service Recap:
Discuss any areas for improvement. Share appreciation of everyone's efforts.
11:30 pm - Check-up:
Count the drawer.
Celebrate the success and assess the damage.
How did we do?
12:00 am - Clean-up:
Clean, sanitize, polish and prep for another day!
---
With so many demands on every hour of the day, developing efficient procedures is like buying time.
If you can create systems that will increase efficiencies, save time and provide a better customer experience, you'll earn a competitive advantage. Plascon Group is your flexible packaging resource, providing FDA/USDA approved packaging options such as Saftea® Liner beverage urn dispenser liners. Saftea® Liners help to maximize efficiencies in your beverage programs by reducing the time needed to clean, sanitize and maintain iced tea urns, all while improving iced tea quality and flavor. This eliminates the need for cleaning chemicals, and the time normally spent by employees to dissassemble, clean, and reassemble each tea urn. What normally takes several minutes to complete at the dislike of the staff member tasked with this chore, now can be done in less than a minute, with no tedious scrubbing involved! From Saftea® Liner to Cook Chill, and a wide variety of box liner and other packaging bags and liners, we are sure to have valuable time saving solutions for your restaurant. Visit our website to see our full line of products: www.plascongroup.com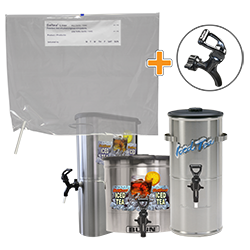 Improve customer satisfaction, boost productivity and add hours to your day! Contact us today for more information on our products, or click the button below to request your FREE 7-DAY supply of Saftea® Liners to see for yourself how this one simple product can solve so many time and quality issues.