Would You Like to Order and Re-Order Your Cook Chill Bags & Accesories Online?
We heard you and it's happening!
Thank you for the feedback on the product offering on our online store. Many of you requested we add Cook Chill bags to our online catalogue. You asked, so we are making it happen!
Coming soon, we will be featuring six of our most popular Cook Chill bags for purchase through our website. We will be offering ½ gallon, 1-gallon and 2-gallon sizes in two seal options, angle heat sealed and clipped.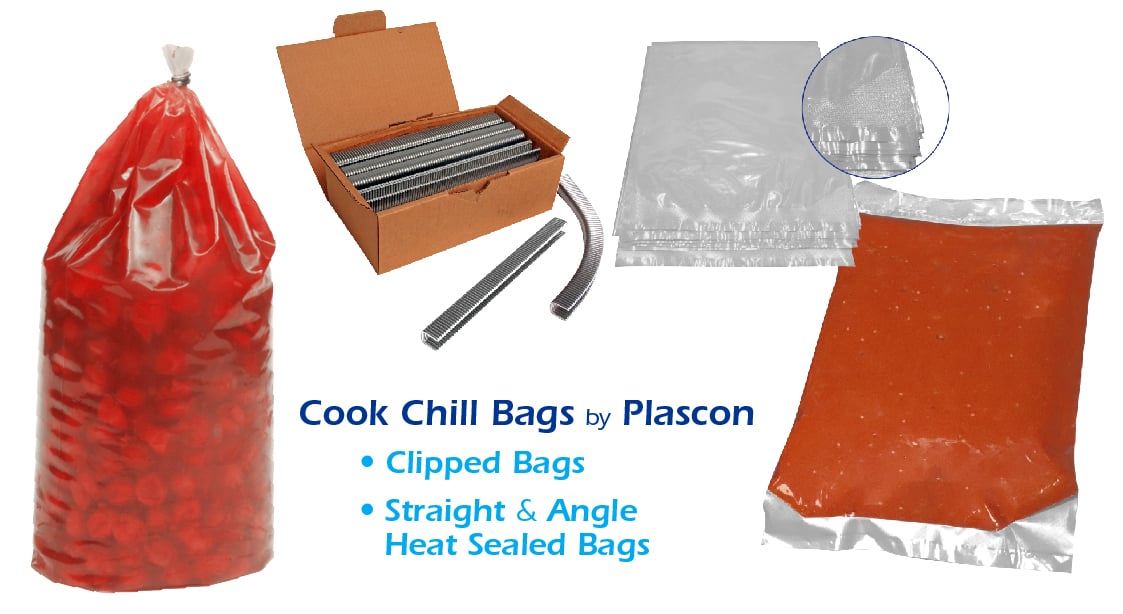 Plascon's angle heat sealed Cook Chill bags have angled corners to minimize the amount of food retained in the corners of the bag when emptying. The angle heat sealed Cook Chill bags lay flat and can be stacked in a cooler or box to maximize storage space. The flat design allows optimum surface content with chilled water or air during cooling to ensure the product reaches 40°F or less in the time window required to meet food safety guidelines.
Our clipped Cook Chill bags are produced with one end closed an aluminum Tipper Tie clip. The bag is then filled on the customer's end and closed with a clipper machine and other clip or heat sealed with an impulse sealer. This method forms a tubular shape and makes it easier to store and carry product and is less prone to human error.
Plascon's Cook Chill bags are made with a 7-layer co-extruded film for maximum durability. Our Cook Chill bags provide: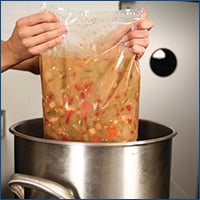 Longer Product Life: Oxygen and moisture barriers provide increased protection of flavors. The low rate of gas transmissions safeguards flavor components throughout distribution.
Superior Durability: The bags are designed to withstand the rigors of handling and distribution, including hydraulic pressures exerted by packaged liquids during transportation.
Positive Closure: Bag is either pre-clipped or heat sealed on one end. After filling the open end is then closed with a clip or impulse sealer. A contents label with code dating can be attached to the clip or affixed to the bag itself.
Improved Sanitation: The Plascon bag is used for packaging, storing, distribution and reheating.
The foods are packaged at above pasteurization temperature, and not exposed to air until the bag is opened for serving.
BRC 'AA' Certified
Keep your eyes peeled for the addition of our Cook Chill bags to our web store in the coming weeks. (Available in the US only.)
Thinking about implementing the Cook Chill process in your business? Explore our website or contact us today to learn more about Cook Chill and how to get started!