Plascon Cook Chill Starter Sets
An economical way to start implementing the Cook Chill Process
Getting your restaurant, cafeteria, food truck, or catering business set up to use the Cook Chill Method of cooking, storing, and serving food doesn't have to be a difficult or expensive change to your operations. The truth is, Cook Chill is very easily scaled to the level of food prep required for any food operations. If you do not have the space or budget for industrial cooking equipment, you can still easily benefit from switching to Cook Chill food prep & serve!
First, let's explain how the Cook Chill method works. Cook Chill is a controlled system of cooking, rapid chilling, and storing of food to be served at a later time. Foods are fully cooked, rapidly chilled and refrigerated or stored frozen, then re-thermed to proper temperatures for serving at a later time.
Benefits of Cook Chill: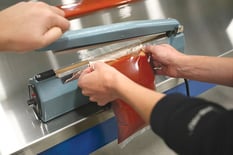 Consistent Fresh Quality & Taste
Extended Shelf Life
Withstands Temperatures Ranging from -20 F to 212 F
Requires Minimal Training to Use
Cook Chill is ideal for packaging large batches of Soups, Sauces, Stews, Gravy, Pasta Dishes & more. Batch cooking enables the chef/cook to efficiently prepare the food at a central location and supply other serving locations while maintaining consistent quality & taste. Bagged product can be reheated in hot water, a steamer or opened to empty contents into a kettle or serving pan. Cook Chill packaging also provides extended shelf life when chilled, stored & refrigerated or frozen properly.
Plascon offers Cook Chill Starter Kits to make trying this food preparation method a simple process. Our starter kits allow you to try Cook Chill cooking in even the smallest food prep spaces.
Cook Chill Starter Kits Include:
Fixed or Adjustable Ring Stand

Impulse Sealer

100 Bags & 100 Labels

Choice of Foot or Hand Sealer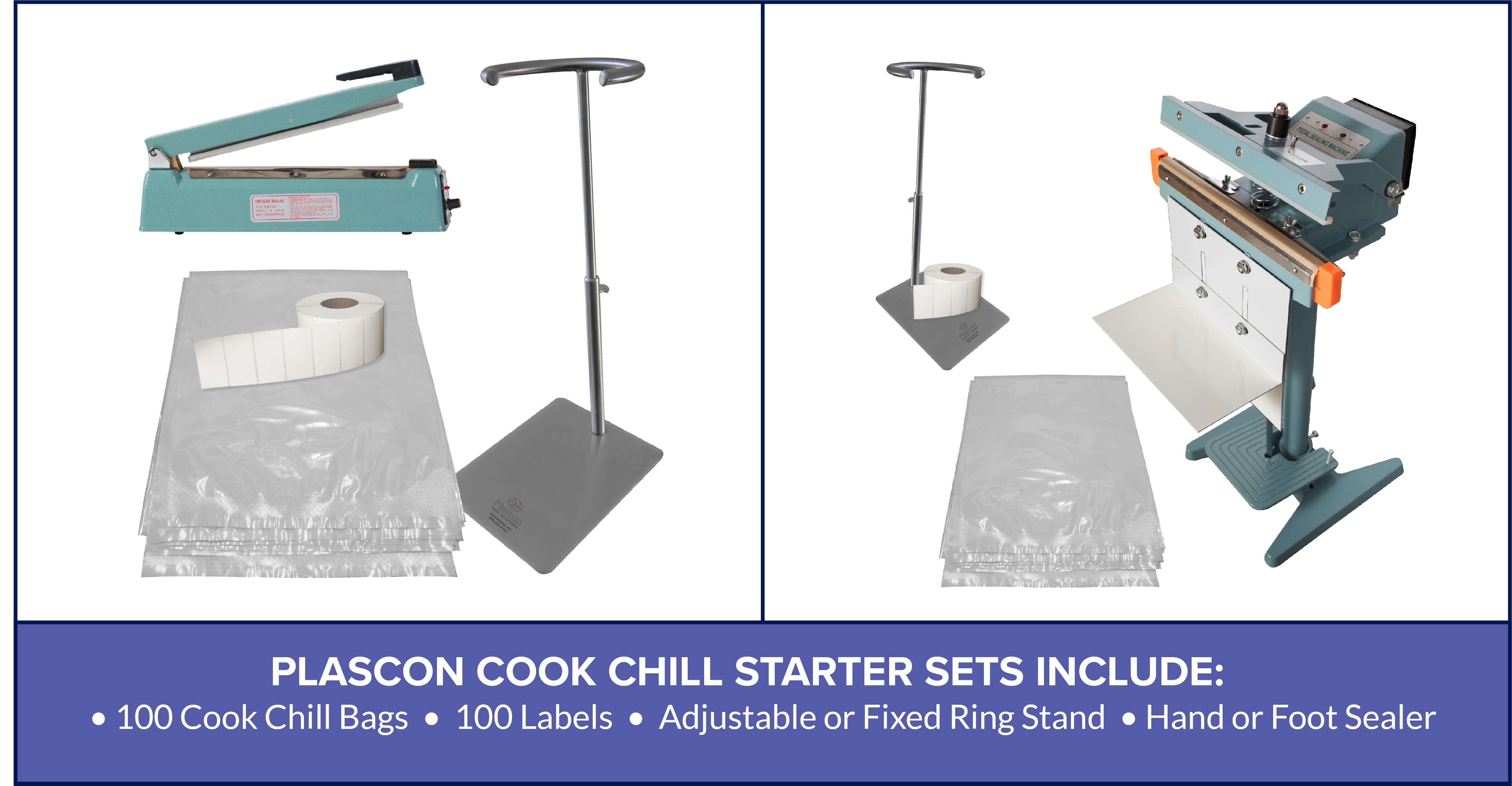 Ready to learn more? Our experienced staff is ready to answer your questions, and get you set up to start using Cook Chill in your restaurant of food preparation facility! Contact us for more information, or browse our online store to view the setup options!