A Month Long Celebration of Culinary Arts
National Culinary Arts Month in July recognizes the professional cooks and chefs who bring innovative cuisine from their kitchens to our tables every day.
Around the country, culinary schools, restaurants, kitchens & commissaries will be honoring chefs for their inventive recipes and creative dishes. The month-long celebration spotlights the best in the industry, the latest trends and what's exciting in the culinary world.
From delicate pastries to the freshest seafood dishes and spice combinations, chefs and cooks hone their skills daily to stay on the edge of culinary perfection. It's no surprise there's an entire month dedicated to honoring their achievements.
Plascon offers a variety of flexible packaging and storage products that can aid the culinary professionals in their daily duties.
Cook Chill Bags
Our blown films manufacturing plant produces state of the art 7-layer cook chill bags for superior protection and durability of food products while in storage or transport. Our Cook Chill Bags are commonly used for packaging, storing, distributing and reheating of large kettle batches of soups, sauces, gravies, pizza toppings, pasta dishes and more by both large and small scale prep kitchens and restaurants around the world.
Cook Chill Bag Options:
Heat Sealed Bags
Angle Heat Seal Bags
Handle Bags
Clipped Bags
Clear or Colored Film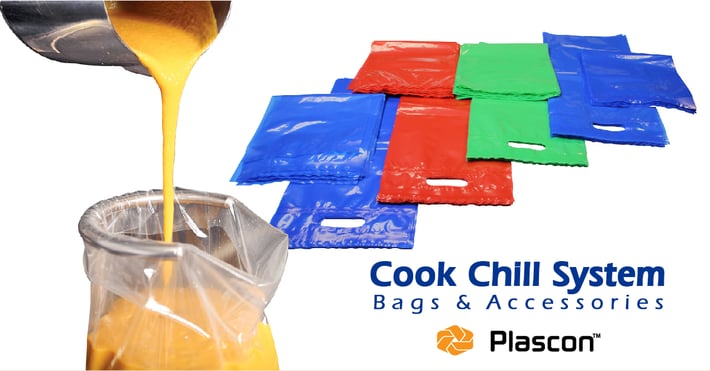 ---
Sous Vide Bags
French for "under vacuum" the Sous Vide cooking technique involve cooking food under vacuum in airtight bags submerged in a cook tank or water bath. Products are slow cooked in the water bath and held at precisely controlled temperatures. Beef, Chicken, Pork, Fish and other meats are commonly cooked in sou vide vacuum packed pouches. Plascon sous vide bags are also made from our 7-layer films.
Benefits of Sous Vide Cooking:
Consistent Results - Foods are cooked evenly and to perfection every time.

Nutrients & Vitamins are "locked in", keeping food moist and tender.

Does not overcook or dry out meats.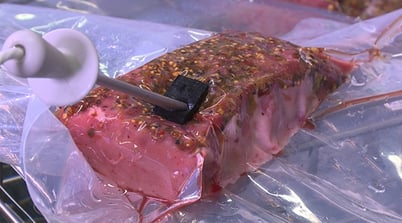 ---
Micro Steam Pouch
The Micro Steam Pouch is a Self-Venting Microwavable Pouch that efficiently cooks food using the natural water content already in the food. This zippered, self-venting and breathable bag allows food to retain more natural flavors, texture, and nutritional value while reducing cooking time, saving energy, and money.
Micro Steam Pouch Food Applications:
Frozen Vegetables
Fresh Produce
Meats
Poultry
Fish & Seafood
---
Cook Chill Accessories
Plascon also offers a variety of cook chill accessories to complete your system setup:
Impulse Sealers

Clippers

Labels

Tyvek Tape

Stack Nest Crates

Mini-Chiller (for smaller Cook Chill System footprints)
Visit our website, or contact one of our Cook Chill specialists to discuss your system requirements, or to help you get started with using this method of cooking and join in on what many top chefs already know and enjoy by using the Cook Chill System of cooking and storing mouth-watering foods and recipes!
Happy National Culinary Arts Month!