Plascon Cook Chill Bags provide food packaging solutions for bulk food prep
Need a good way to package larger batches of soups, sauces, chowders, gravies, chili, pasta dishes, pizza toppings and other pourable type food products for storage? Consider hot fill Cook Chill Bags from Plascon. Our Cook Chill Bags come in a variety of sizes, seal types and thicknesses. With bag volumes from 1 pint to 3 gallons, you can find a bag to fit a wide range of packaging volumes. Headquartered in Traverse City, Michigan, our blown films plant manufactures both the film and conversion to bags, giving us full control over the process, and allowing us to not only stock several common sizes, but also be flexible enough to accommodate custom sizing as well.
Cook Chill Bag Seal Options:
Straight Heat Seal with a lay-flat storage characteristic.
Angle Heat Seal for maximized food retention when emptying bag.
Handle Heat Seal with an integrated cutout to facilitate the handling of the bag.
Clipped Bag has an aluminum Tipper Tie Clip to form a more tubular shape when filled.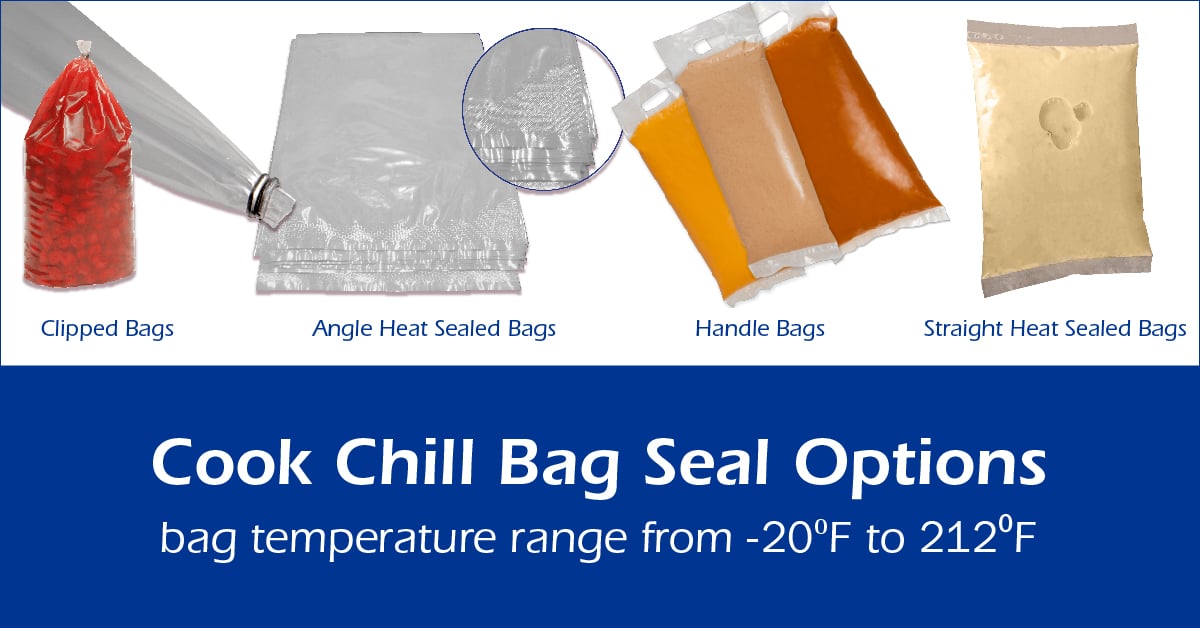 Cook Chill Bags are offered in both 3.0 mil or a thicker 4.5 mil for added durability to withstand the rigors of tumble chilling, handling and distribution. With the bag temperature range from -20⁰F to 212⁰F you can hot fill and refrigerate or freeze your product.
Whether you have a single restaurant location, large commissary or food production facility, Plascon has a Cook Chill Bag to fit your needs. The Cook Chill method of food prep, storage, and serving is easily scalable to work in any size kitchen from small to industrial. New to Cook Chill? Check out our Starter Sets! Everything you need to get started is included in these bundled packages. Select the starter set that fits your needs best, or contact us if you have questions on how to get started!
NEW! To make the ordering process even easier, we recently added 1/2 Gallon, 1 Gallon, and 2-Gallon Angle Heat Seal, and Clipped Bags to our web store, along with our Starter Sets, and accessories!