Short on floor space for your Cook Chill operation? Mini Chill has the solution!
What foods can be cooked using the Cook Chill method?
The Cook Chill System is a major advance in prepared foods technology that ensures consistent quality in every batch, at every location, while reducing labor required for preparation and serving. Basically any food of pumpable consistency can be cooked and prepared at peak quality with this revolutionary system. This includes soups, chowders, sauces, gravies, gelatins, chili, stews, casseroles, pasta dishes, pizza toppings, and many more.
Cook Chill provides optimum sanitation.
Once the raw ingredients go into the cooking kettle, the food is never again exposed to handling. The Plascon cook chill bag is used for packaging, storing, distribution and reheating. This unique, multilayered material also prevents crossover of flavors or odors in distribution. The foods are packaged at above pasteurization temperature, and not exposed to air until the bag is opened for serving.
Can smaller kitchens use the Cook Chill method?
Yes, of course! While it is true that Cook Chill is used in large commercial kitchens for bulk food preparation, it is also very practical for the smaller mom-and-pop style restaurants. The Cook Chill method is easily scalable to the size of you operation, no matter how big or small. Plascon offers many solutions ideally suited for a smaller footprint, including ring stands to hold the bags when pouring the contents, hand and foot bag impulse sealers, and the Mini Chill to speed chill your foods.
What is a Mini Chill?
A Mini Chill is a portable receptacle that holds ice & water for cooling Cook Chill Bags filled with soups, sauces, stews, pastas & other products. With 32 & 44 gallon sizes available, the Mini Chill fits in any space, and can be tucked away when not in use.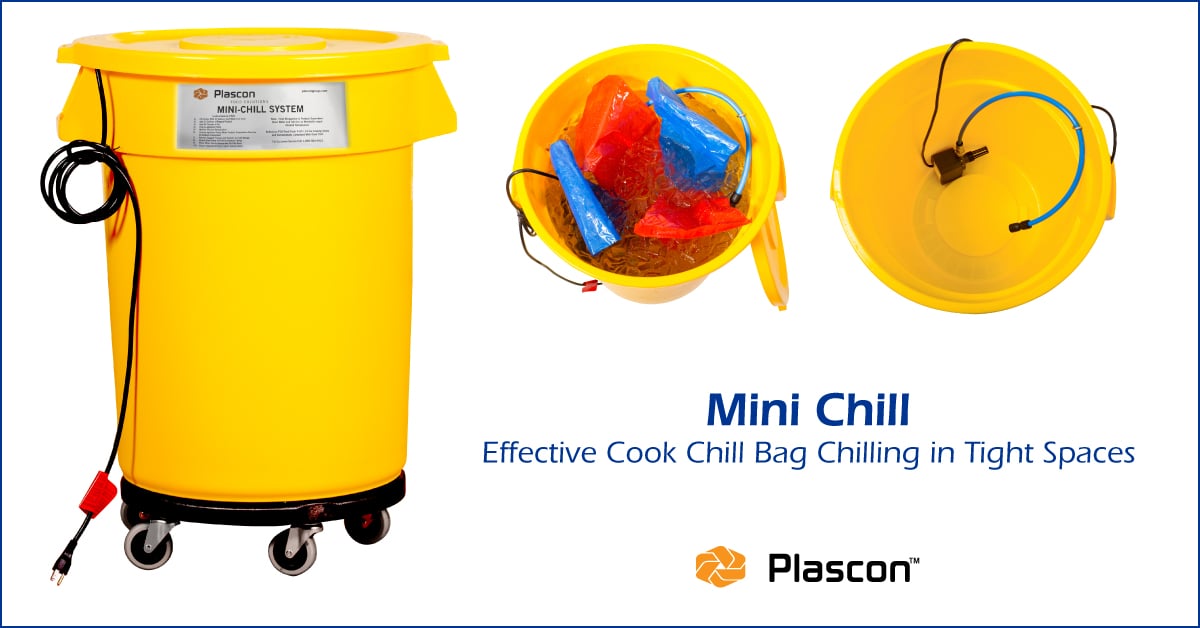 Why use a Mini chill?
It is an inexpensive alternative to using a blast chiller.
Effectively Chills (10) 1- gallon bags in under 2 hours
Requires only 4 square feet of floor space
More effective cooling than an ice bath in a sink, due to a pump recirculating the water.
It takes up minimal floor space (4 square feet).
Portability: It is mounted on a dolly, so it can be easily put away when not in use.
Available in two sizes, 32 Gallon & 44 Gallon
A great addition to a Cook Chill Starter Set
Plascon Cook Chill Bags are made with advanced, co-extruded, multi-layer, translucent film designed specifically for the application. The films are made with oxygen and moisture barriers to provide better flavor protection. We are the direct manufacturer of all of our cook chill bags in our Traverse City, Michigan blown films plant, giving us complete control over the film creation process, and conversion to bags. We have several common size bags available, and can also provide custom sizes to meet your exacting needs.
Plascon Bags guarantee a quality seal, increasing the shelf life of your contents and provide:
Sensible Storage Options-smaller, more convenient, stackable pouches as compared to #10 cans
Sterile Environment - Eliminate the risk of sharp edges and metal clips falling into food
Cost Efficient Packaging - lower per bag cost compared to #10 cans and clipped casings
Minimal Inventory Storage - sealed bags optimize inventory by using 75% less space than clipped casings
Our knowledgeable staff is here to assist you in selecting the right cook chill bags and accessories to match your specific needs and space requirements. Whether you are new to Cook Chill, or have been using this method for year, contact us today to see the Plascon difference. From cook chill bags to accessories, we have what you need to keep you cooking! Contact us for more information!